Our Solutions - Holistix eCDOP

Online recording, casework and reporting for child deaths
National Child Mortality Database (NCMD)
As the technical partner to the NCMD, QES can guarantee that our eCDOP product fully integrates with the National System.
All CDR Partners are mandated to notify NCMD of a child death within 24 hours of initial notification, and are required to send case information at each stage of the process.
If you are using the eCDOP system, your data will be automatically transferred into NCMD. This removes the need to update the NCMD manually, saving valuable time to focus on other CDR matters.
Summary
eCDOP is a secure, flexible and web-based solution which allows your CDR process to be fully managed efficiently, with effective sharing of multi-agency information.
The system provides a secure way of connecting your network of partners in your CDR arrangements.
The eCDOP system has grown and flourished, originally designed by Kent LSCB, and it is now successfully being used by 110 Local Authorities and their respective CDR Partners across England.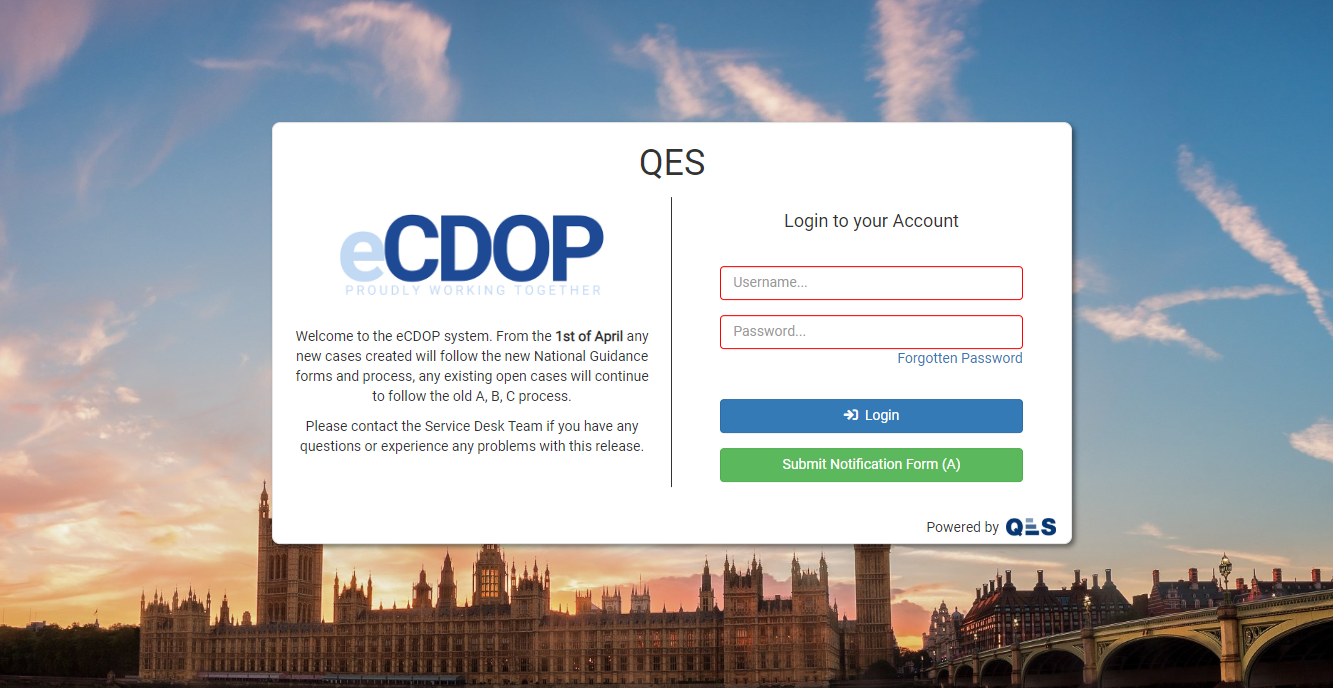 Working Together Statutory Guidance
The eCDOP is compliant with the new Working Together 2018 statutory guidance, hosting the new Notification, Reporting and Analysis forms and the new workflow.
eCDOP has been designed to establish efficiencies in the CDR workflow, across individual or multiple safeguarding boards. The system is flexible and will facilitate your process of joining up with your surrounding areas to form your new safeguarding partnerships, as and when you are ready.
This system accommodates a 'Working Together' approach, whilst still providing the opportunity to distinguish between LSCBs for analysing data and reporting if required.
eCDOP will evolve with you, and is ready for you to join up at your own pace, so please do get in touch if you are ready to start your eCDOP journey.
Joint up reporting can take place across the areas you are Working Together with, whilst still providing the opportunity to distinguish between individual areas for analysing data and reporting if needed.
eCDOP will evolve with you, and will allow for older cases to be completed with the old forms (A, B and C) whilst still allowing for your new cases to follow the new statutory guidance and forms.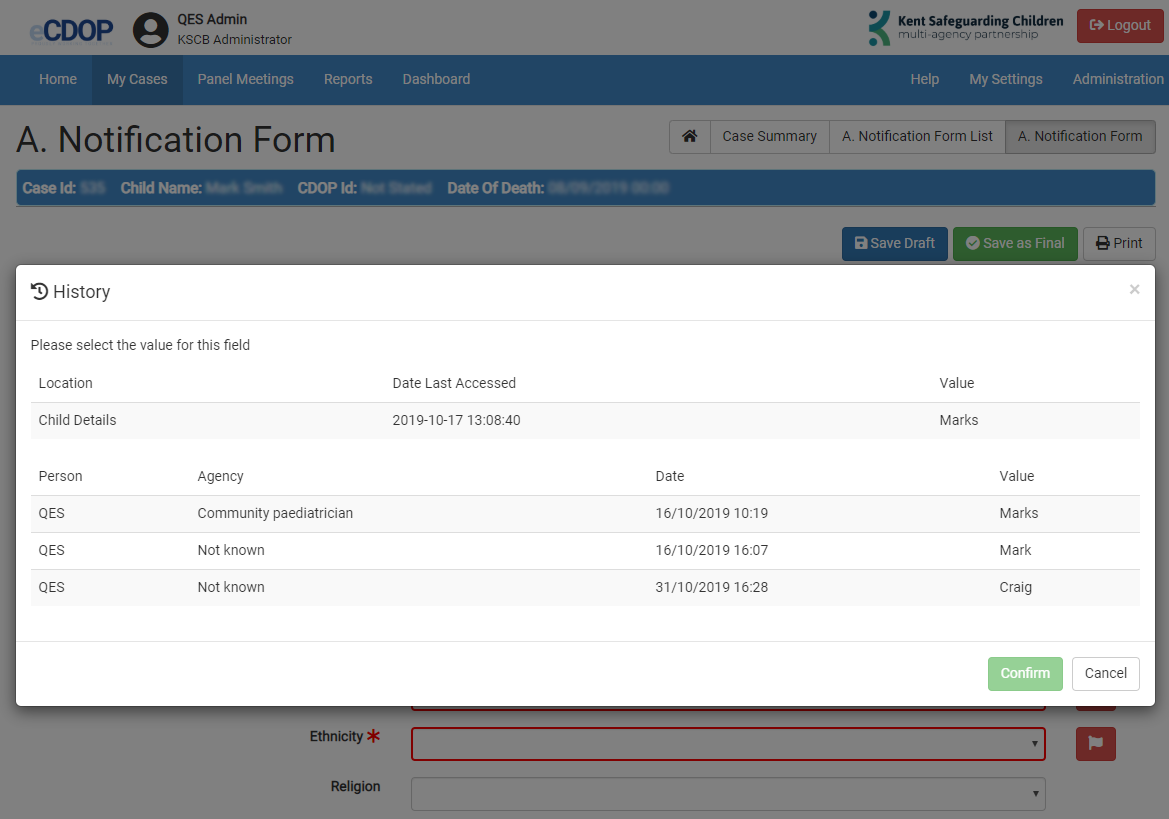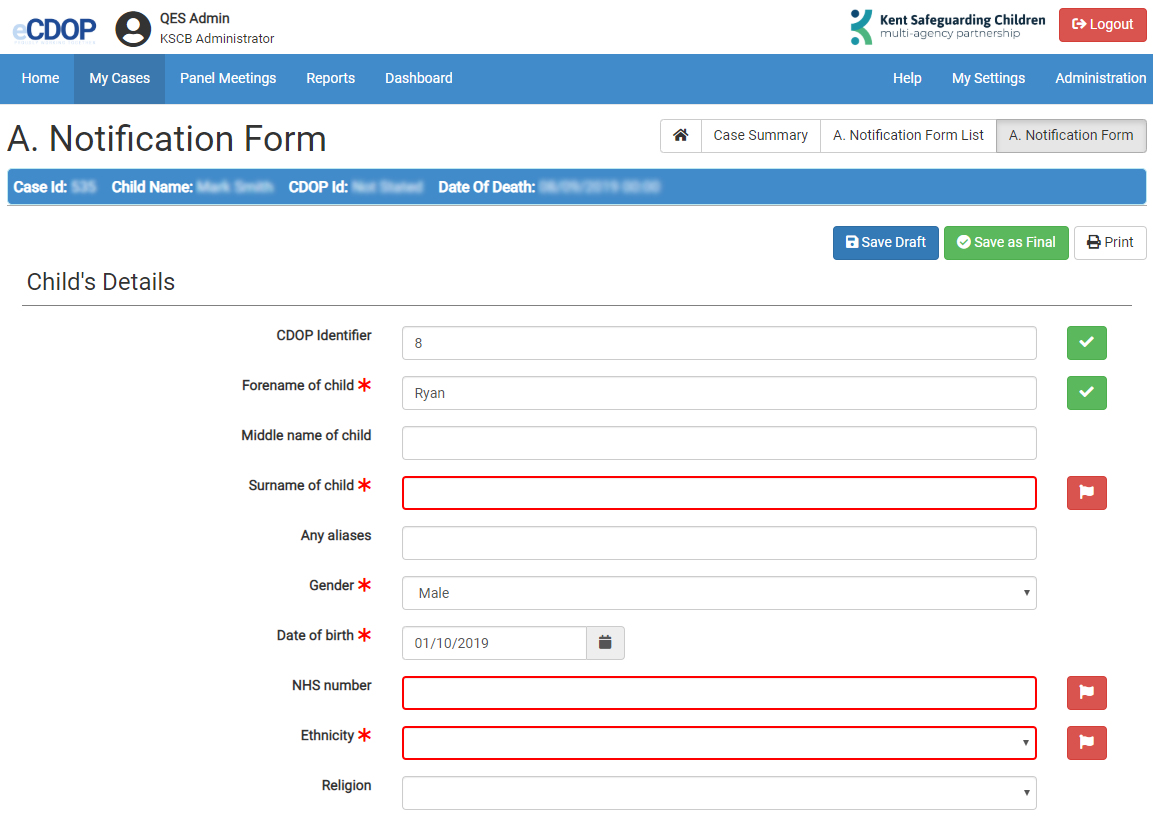 Efficiencies
eCDOP was originally designed with the main goal to improve the efficiencies throughout the CDR process, and is now renowned for the time it saves for its users.
It has been proven to significantly reduce the administration time from 2 days to 2 hours, make your annual government report over 80% faster to produce, and support the clearing of case backlogs.
There are lots of features in the eCDOP system which help to make the process faster. Some of these include: an automatic chase feature for the return of your Reporting Forms; an automatic anonymisation feature for your meeting forms; a consolidation feature to amalgamate both your Notification and your Reporting Forms; an out of area feature which allows the easy facility to send Notification Forms to other eCDOP users in the country; and lots more!
Get in contact to find out more about how much time it could save you!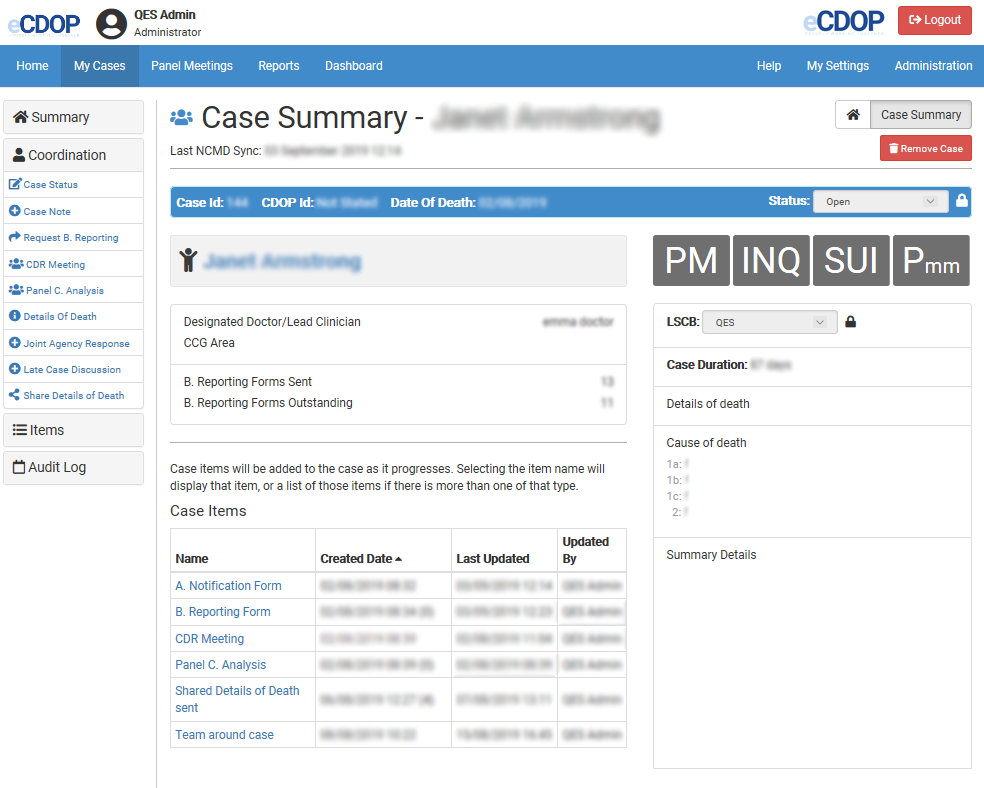 Case Management
Complete end to end case management, from receiving then Notification Form locally all the way through to closing a case in the CDOP meeting.
All data on the case is stored in one centralised location.
Ability to directly input coroner/post mortem information.
CDR Meetings, Rapid Response Meetings and CDOP meetings can be arranged and managed electronically, providing more efficiencies, easy and secure information sharing and version control of documentation.
Alert feature which instantly notifies all relevant partners of a child death, e.g. CHIS Hubs.
Data is automatically pulled forwards to the next phase of the process (e.g. Notification to Reporting Forms), meaning double data entry is reduced and improving the data quality.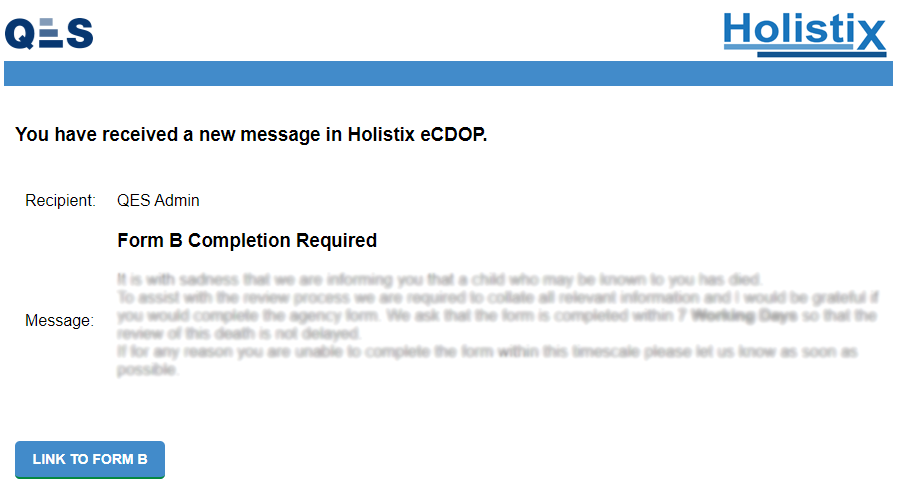 GDPR/Security
eCDOP is GDPR compliant and a secure way to store and access your CDR information.
Security roles distinguish the information each user can access.
All system and case activity is automatically audited.
No sensitive information ever leaves the eCDOP system.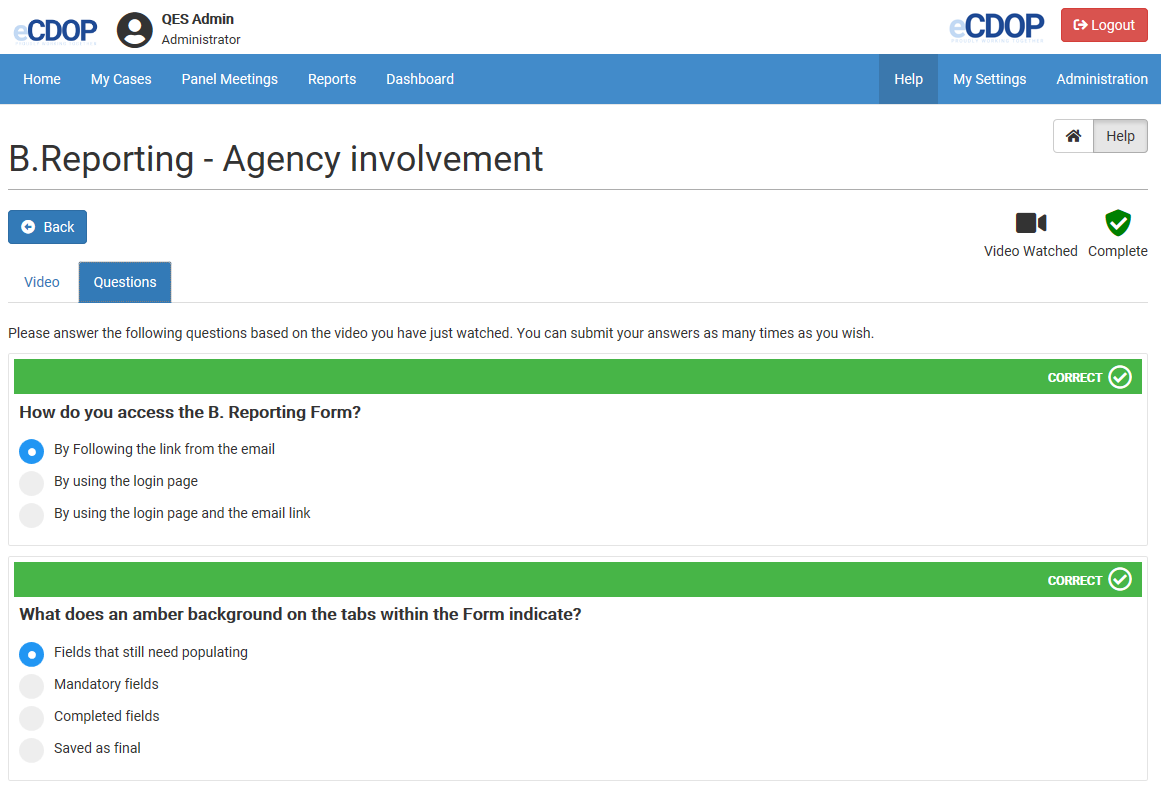 Improved Data Quality
eCDOP will help to improve your data quality.
Mandatory fields are in all our forms, with options to put Not Known, to prompt users to go to all important questions and provide an answer, subsequently improving the level of responses.
Administrators have complete control over the forms, and are able to un-finalise forms if the data quality returned was not of a suitable standard.
Automatic reminders are sent for Reporting Form requests when they are overdue, encouraging users to complete and return their response.
Data automatically pulls forwards to each stage of the process and therefore some forms are prepopulated with data, meaning double data entry is reduced and improving the data quality.
Alert system instantly notifies all relevant partners of a child death, pulling relevant data through, resulting in quicker and improved information sharing between networks.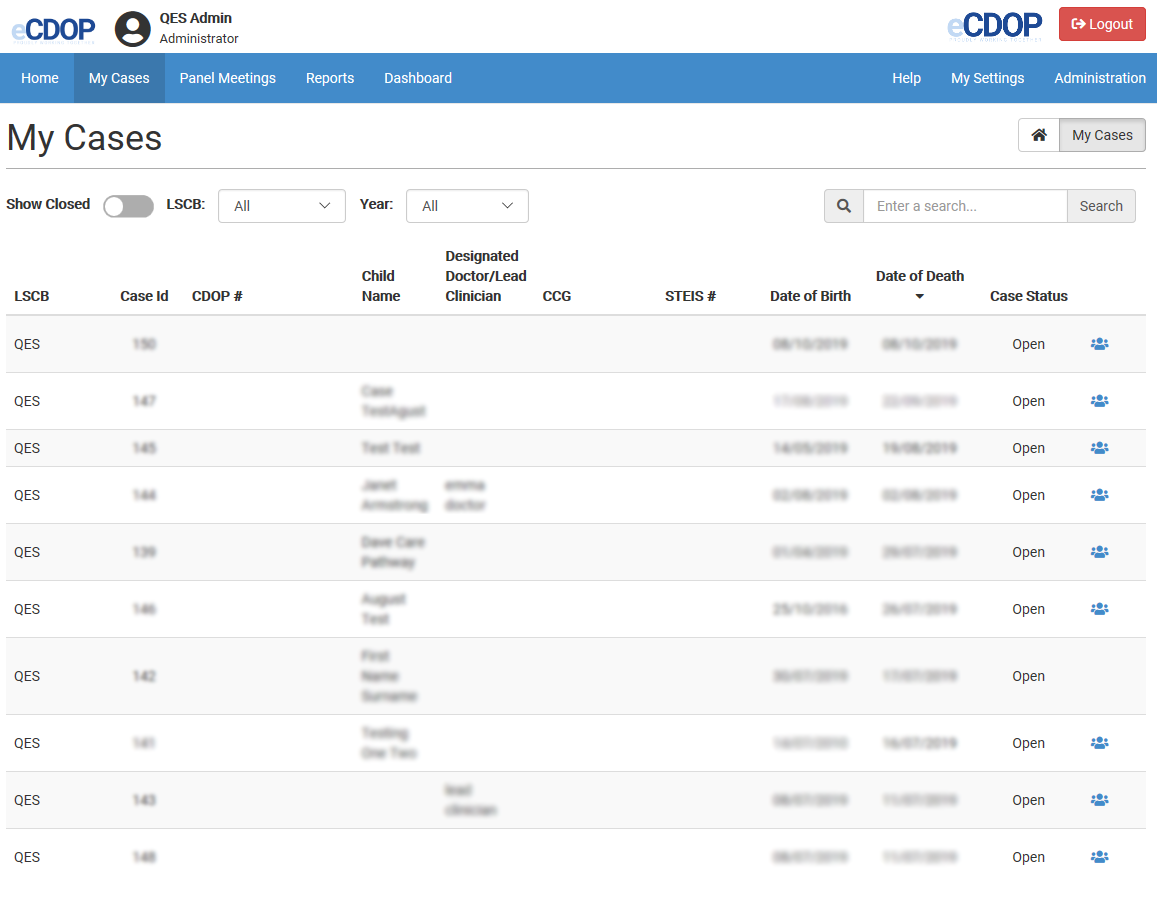 Reporting
eCDOP does your annual reporting for you! eCDOP is automatically linked to the National Database (NCMD), removing the task of updating NCMD manually. See the NCMD page for more information.
Instant access to real time data through an interactive dashboard.
Reports are available at a click of a button, any time of year, allowing you to proactively monitor trends and react to emerging local or national issues more quickly.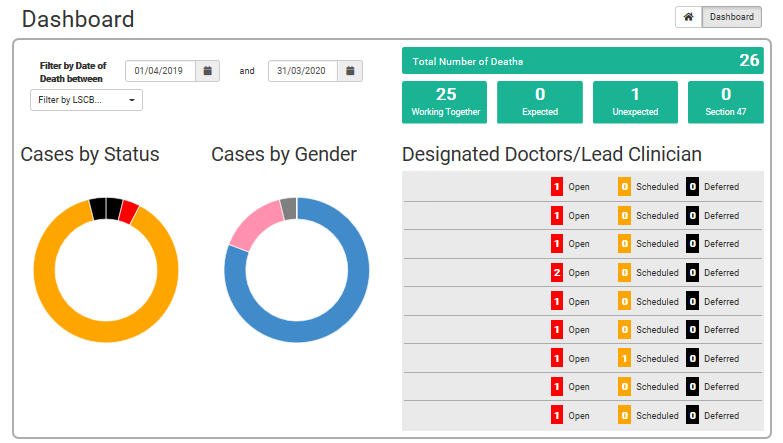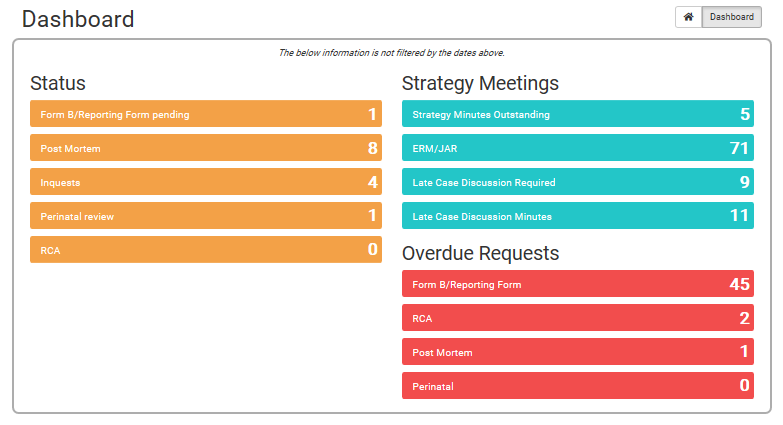 Accessibility
A publicly available site allows Notification Forms to be submitted securely and directly to your CDR Administrators.
Administrators can easily access the eCDOP system through the secure log in page.
The eCDOP system can be used on mobile devices, and is available 24/7.
Automatic email alerts are triggered when a user's involvement is required.
"Before eCDOP went live, deaths would be faxed to us, emailed or sent as hard copy. It's very disparate and if a fax doesn't arrive, there is a delay. It is also not as secure, with information collected often on a spread sheet."
Sue Gower MBE - KSCB Programme Development Manager
From CYP Now article "Safeguarding board develops child death data collection system"
LGC awards finalist for Driving Efficiency through Technology
QES are delighted to share that eCDOP, in collaboration with Kent Safeguarding Children Board, are finalists in the "Driving Efficiency through Technology" category of the Local Government Chronical industry awards 2017.

Get in touch regarding

Contact Us
Please enter all required fields