Our Solutions - Serious Practice Review

The Solution for all your Adult, Child and Domestic Homicide Case Review needs.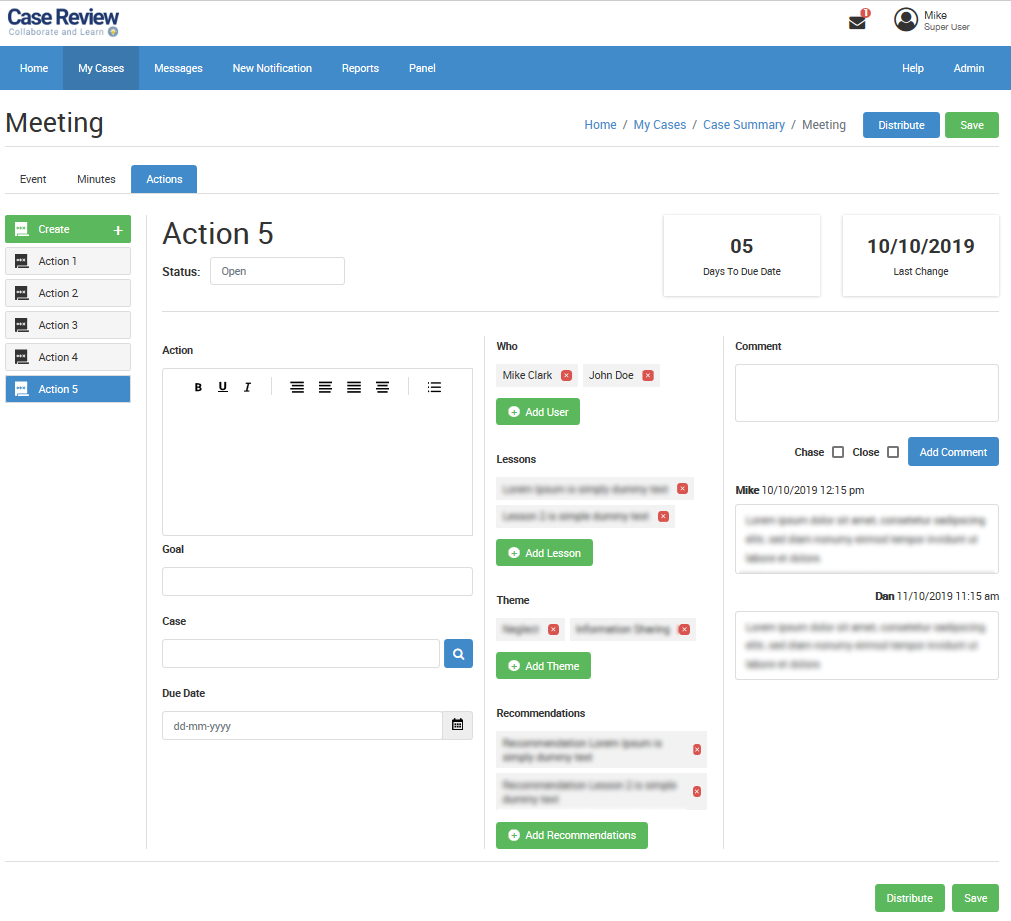 Summary
Case Review is part of the QES Safeguarding suite of tools supporting the need to gather, understand and gain value from multi-agency information, to support young and vulnerable people.
As a secure online solution Case Review acts as a central data repository, accessible by all agencies, to input their engagement with people that require a case review, supporting all reviews not just Serious Practice Reviews.
Using configurable local thresholds that span a range of review types, from Serious Practice Reviews to best practice learning opportunities, Case Review is an end-to-end review system for:
Case notification
Case working and administration
Information requesting and collection
Sophisticated action tracking and monitoring
Fully automated agency chronology
Meeting management, including minutes/action distribution
Report authoring and sharing
Interactive Dashboard
…and more!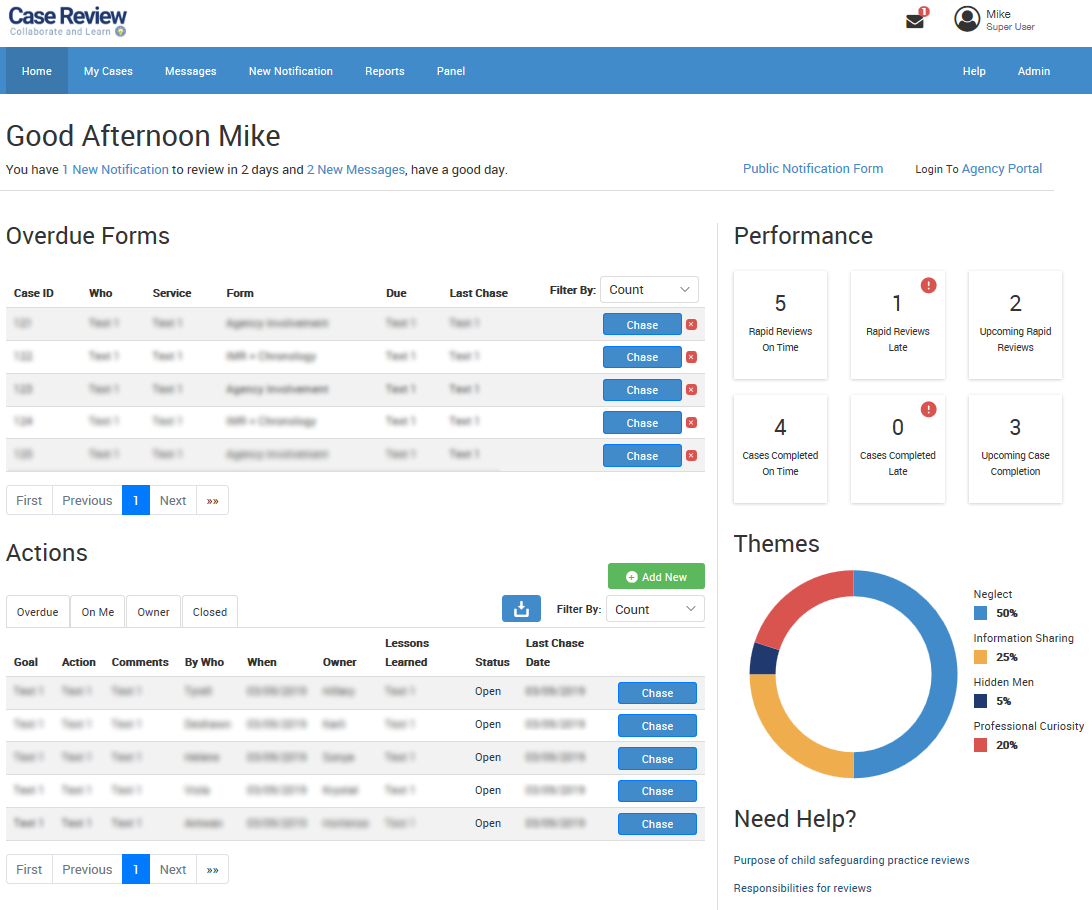 Timescales
Local Authorities must notify a referral meeting the threshold for a Serious Practice Review to the Panel, Safeguarding Partners, Secretary of State and Ofsted within 5 working days of awareness of the incident.
The Local Authority then have 6 months from decision to initiate the review to conduct a full case management of the process and publish the report, advising the Secretary of the state at least 7 working days before publication date).
QES' Case Review system can help facilitate your process to ensure you meet these statutory deadlines. The system has been designed to improve efficiencies throughout the process, and with a countdown feature reminding you of any upcoming deadlines you'll be able to easily track any upcoming deadlines or actions.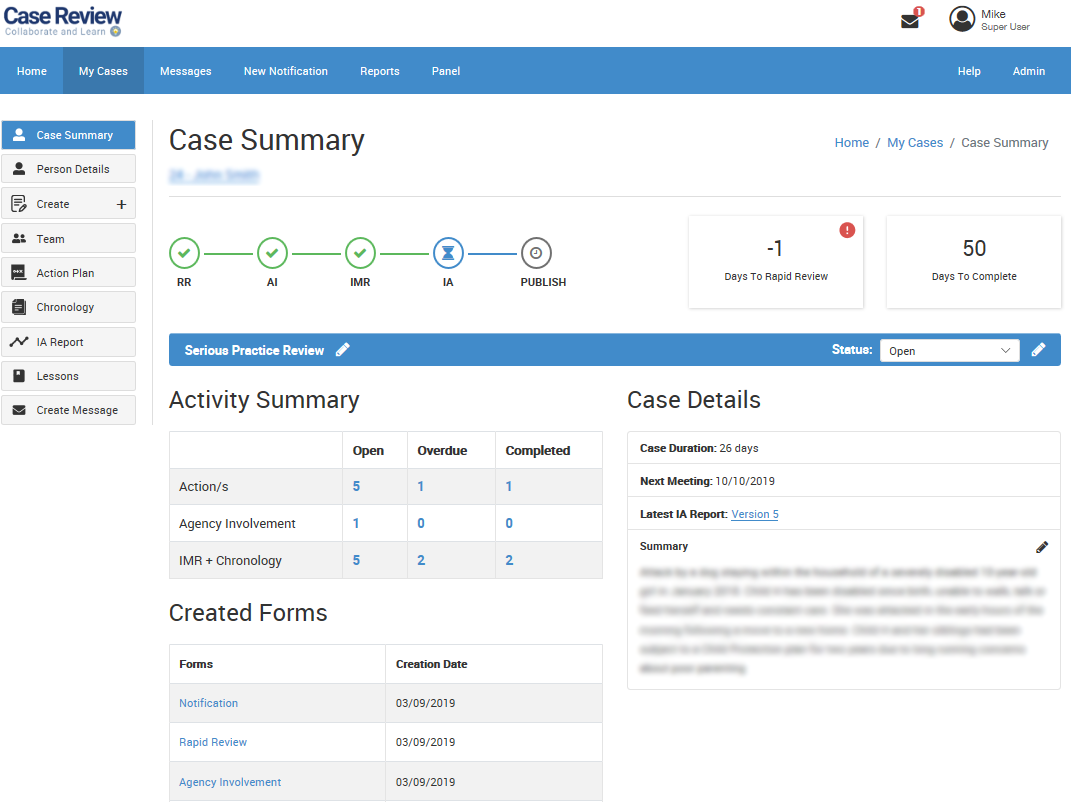 Efficiencies
The Case Review system has various features, developed to save your team time throughout the case review process. Some of these include:
Case summary provides the facility to store all information in one centralised location.
Automatic reminders when form responses are overdue.
Automatic chase feature to follow up on outstanding actions.
Flagging tool to clearly indicate when an activity is overdue or requires attention.
Instant notifications to key partners.
Easy and secure information sharing to multi-agency partners.
Automated form consolidation to collate all information from multiple form responses into one combined form.
Agency Portal, providing agency workers with information relevant to them in real-time.
Online messaging tool to enable quick sharing of information across multi-agencies.
Automated chronology tool, pulling all agency information into one place and ordered in chronological order.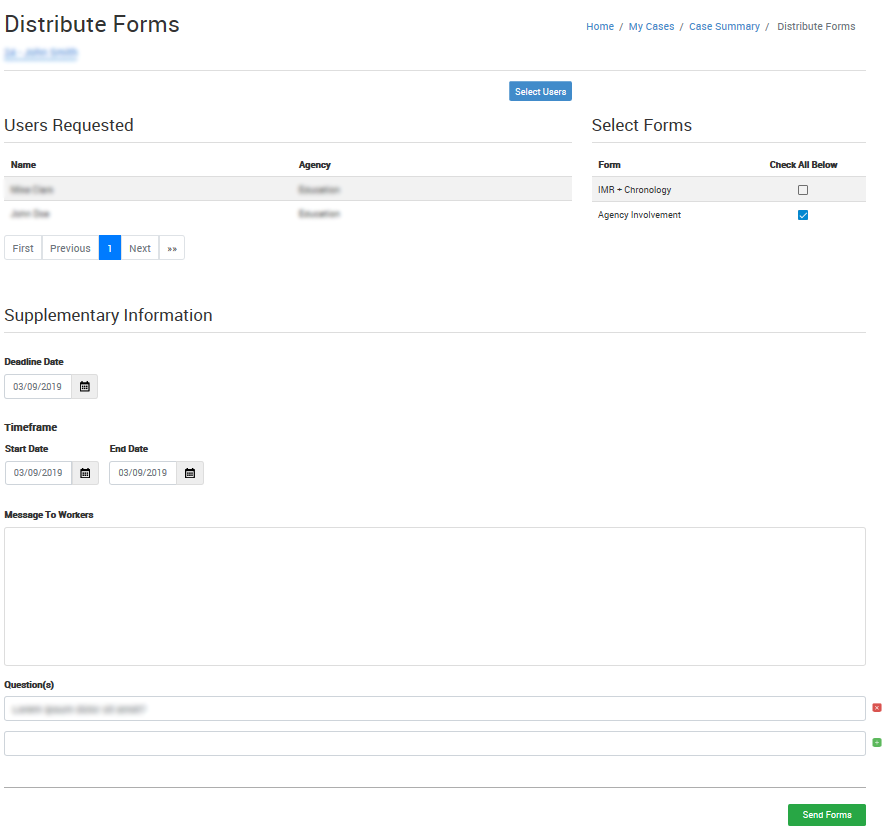 Form Distribution
The Notification form is completed directly on the public site, which is automatically transferred to the Administration site, notifying key members of staff of the new form.
Administration users are able to distribute the Agency Involvement Form and the specific Agency Forms (e.g. IMR) directly to the agency worker(s).
The agency forms are completed electronically, can be saved as draft before finalising and can be exported for retention of a copy.
The forms contain some mandatory fields to improve data quality of the return.
There is an automatic chase feature, which is programmed to send reminders to the recipients when their form is overdue. The timings of this can be configured to your local area.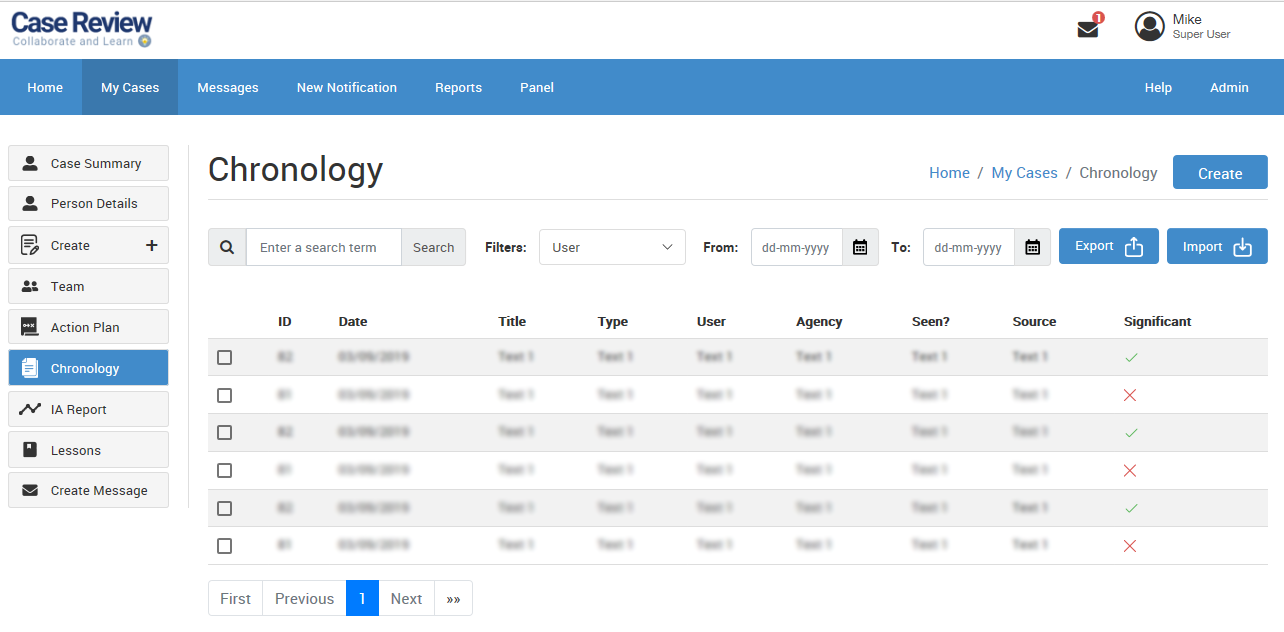 Chronology
Case Review contains a sophisticated chronology tool, which automatically pulls through all agency responses into one place and orders them in chronological order, to provide a clear view of activity across a timeline.
There is no limit to the number of entries included in the chronology tool.
The chronology feature clearly distinguishes between agencies, and can be edited, filtered or removed.
Mass chronologies can be uploaded into the chronology tool, saving your users significant time when uploading a more complex case.
The chronology feature can be exported to various formats, and filtered on user, agency and significance.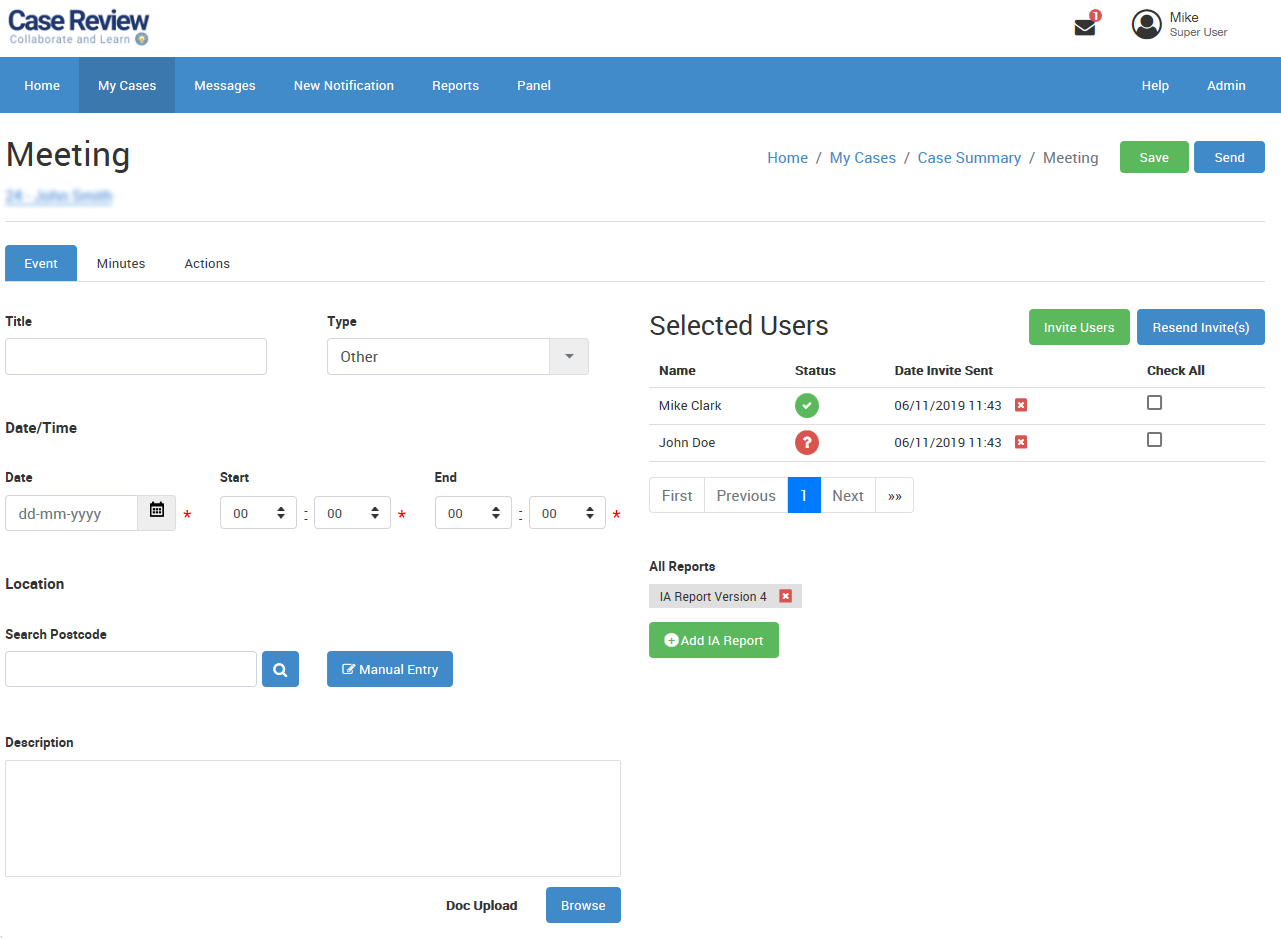 Meeting Management
All meetings in the case review process can be managed on Case Review, including the Rapid Review meeting, Panel Meeting, Local Learning meetings, and more.
The meeting can be organised online, providing the ability to invite users and share relevant information associated with the meeting (e.g. case information, agenda, supporting notes, etc).
Meeting minutes and actions can be inputted within a meeting, directly onto the system, which will be accessible to all attendees.
Themes, recommendations and lessons are all stored against a meeting, with the ability to track actions to ensure corrective improvements take place.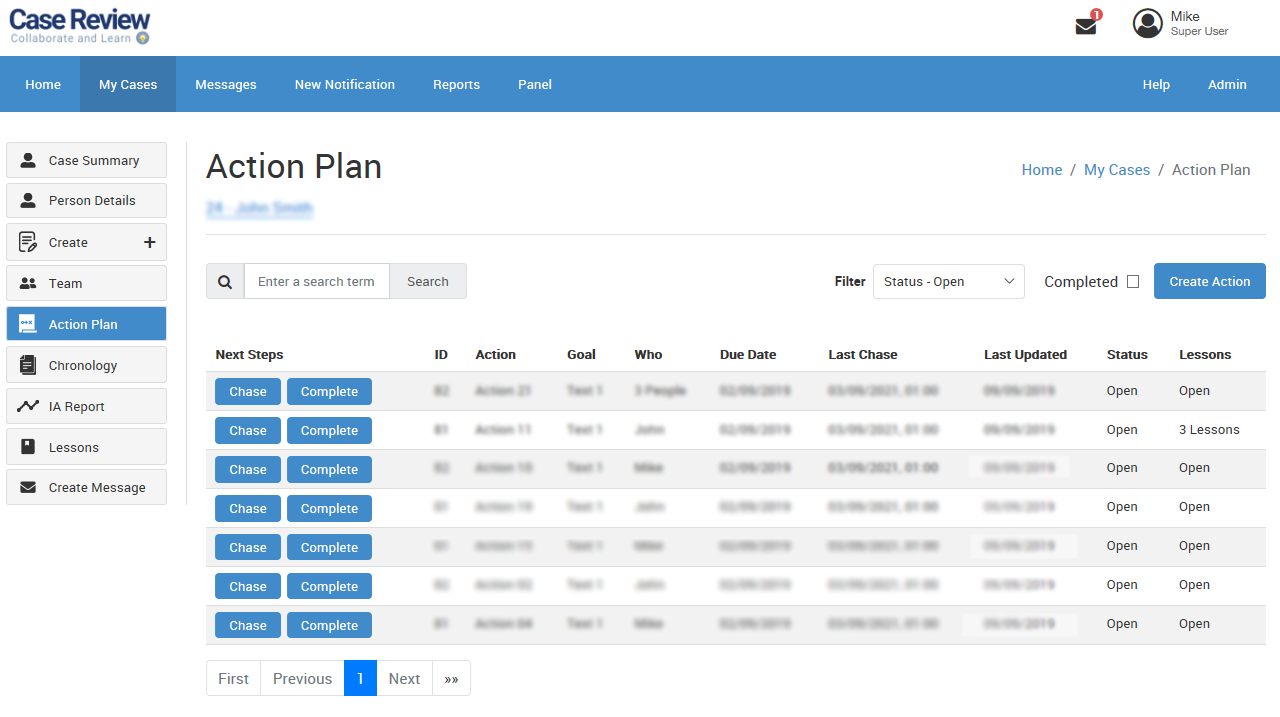 Action Tracking
Case Review comes with a fantastic action tracking feature, which allows users to add actions against a case or system wide.
Actions can be assigned to a particular individual(s), with deadline dates. The system will send automatic chase emails to those with overdue actions set against them. Manual chases can also be easily issued by users at a click of a button.
Each action can be linked to a lesson/recommendation.
Users can update information against and action, with supporting documentation when relevant.
A user's individual actions will appear on their system landing page, so they can easily see which actions are set against them.
Administrators can mark actions as complete when appropriate, which will hide them from the initial view.
Actions will appear in order of date due, which improves the process of monitoring upcoming actions.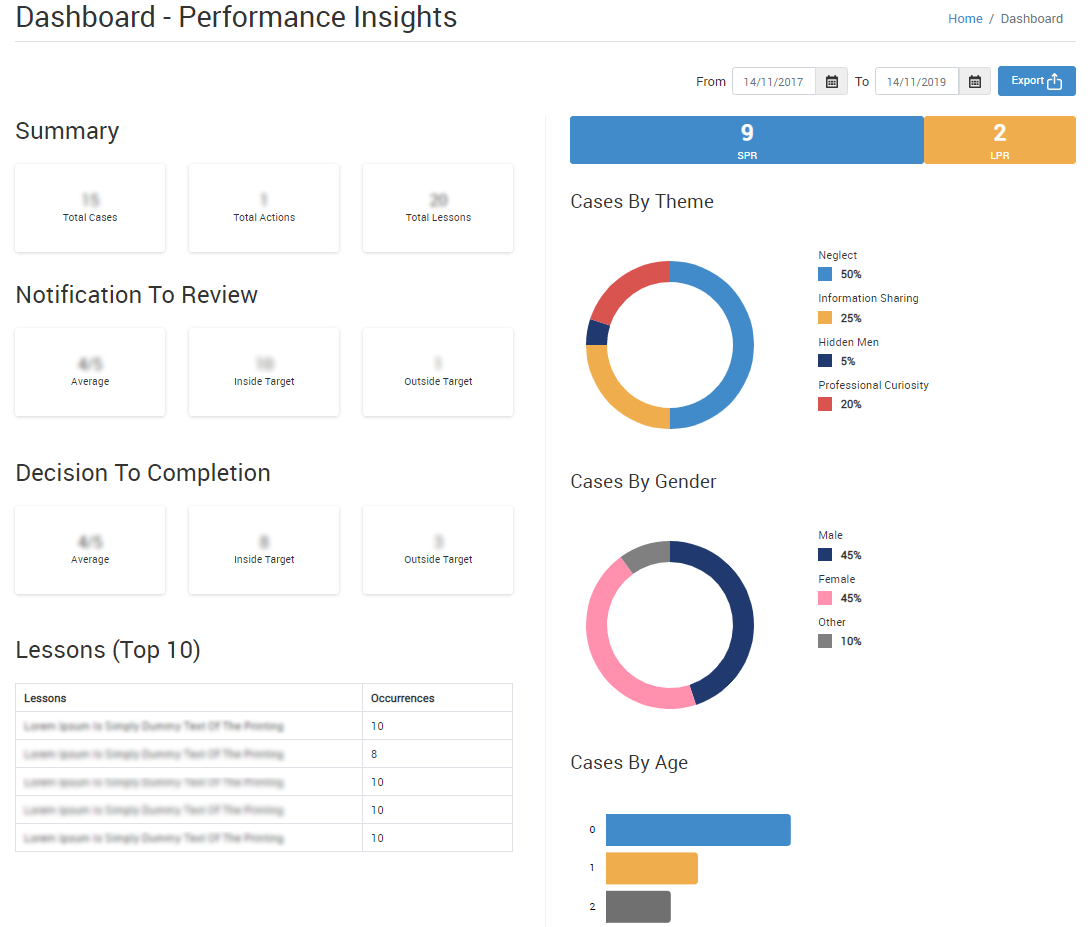 Reporting
An interactive dashboard is available, which can be filtered by date range.
This provides a real time view on the position of the service, including statistics, graphs and charts.
The case review dashboard will include themes identified, lessons disseminated and a breakdown by agency.
Our dashboard provides a clear, visual representation which allows your team to react to emerging issues more quickly, disseminate learning, take corrective action and improve the response in the future.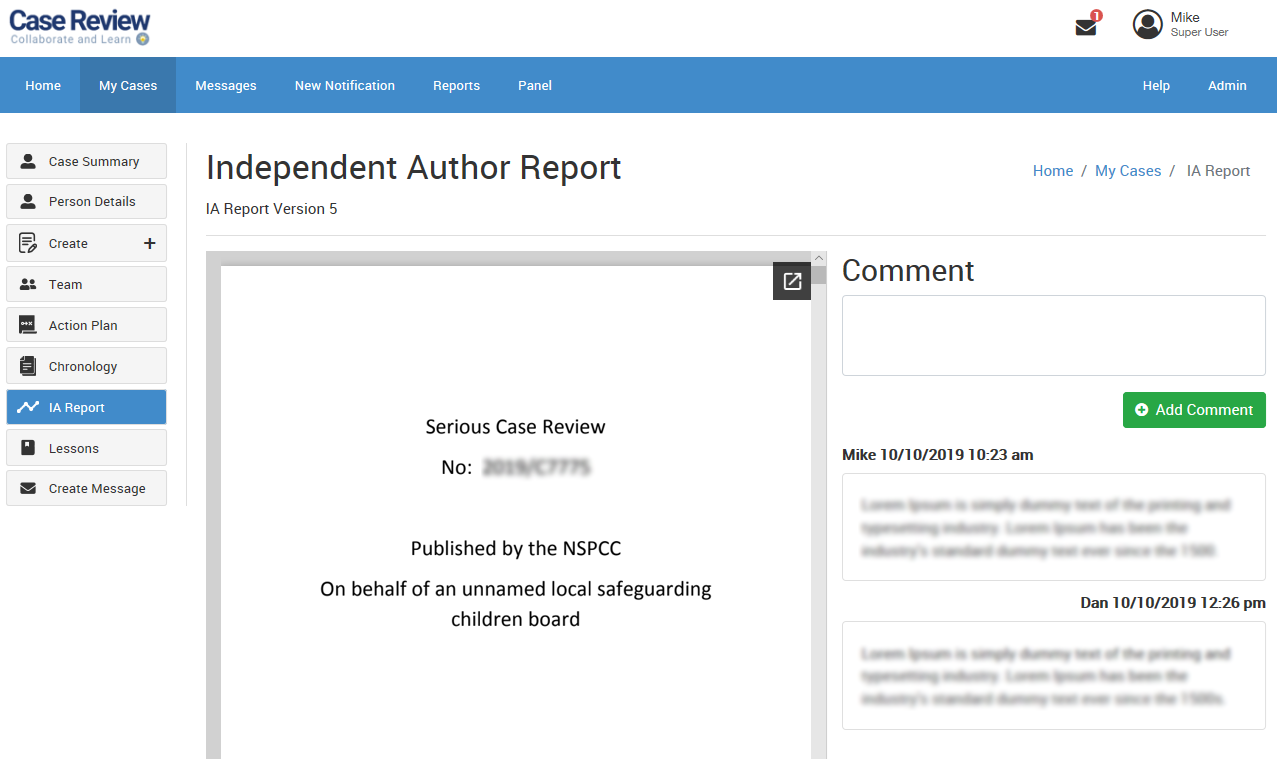 IA Report
The Case Review system fully supports the production of the IA report.
The IA report can be uploaded onto the Case Review system, with other users having the capabilities to add comments and adjustments as they go.
The Independ Author can easily access people's suggestions, making this process a much more collaborative approach.
The IA report, along with any comments, can be accessed on the system during meetings, allowing a group of users to continue to add value to the report in real time.
On completion, the system will generate a publicly available form which can be shared by your team.
All IA reports are retained on the system, and are searchable on various fields including categories and sub categories. When a new notification comes in, Administrators can search on the IA reports list by category (e.g. neglect) to review the outcomes of previous cases, conduct cross-case comparisons and disseminate learning more quickly and easily.
Security
The Case Review system is secure and GDPR compliant.
No sensitive information ever leaves the Case Review system.
Security roles distinguish the information each user can see.
All system, case and user activity are automatically audited, and accessible on a read-only basis to key Administrators.
Get in touch regarding

Contact Us
Please enter all required fields