Our Solutions - IDT & Bed Bureau


QES are pleased to announce that our IDT and Bed Bureau system is the winner for a nationally recognised HSJ Award!
Summary
Unexplained and unnecessary delays in discharging processes is a systemic problem that continues to subject patients to an even more unpleasant, and often frustrating, experience whilst also mounting added pressure on to health and social care professionals. This recurrent issue proves to be an ongoing burden on many NHS resources:
In 2017/18, eight councils faced fines ranging from £3,000 up to £99,970i due to delays in patient discharge
It's estimated that the cost to the NHS for delayed discharge alone amounts to approximately £100m per yearii
The National Schedule of Reference Costs saw the total cost of both elective and non-elective inpatient excess bed days as reaching up to £1,441,009,068iii
Nurses spend 15 minutes every houriv of their shift fielding questions on bed availability rather than on patient care
The introduction of the award-winning dual patient and bed management system, developed by QES in partnership with Mid Cheshire Hospitals, provides a patient-focused integrated approach to reducing Delayed Transfer of Care (DTOC) rates with the overarching mission to improve patients' general experience from admission to discharge.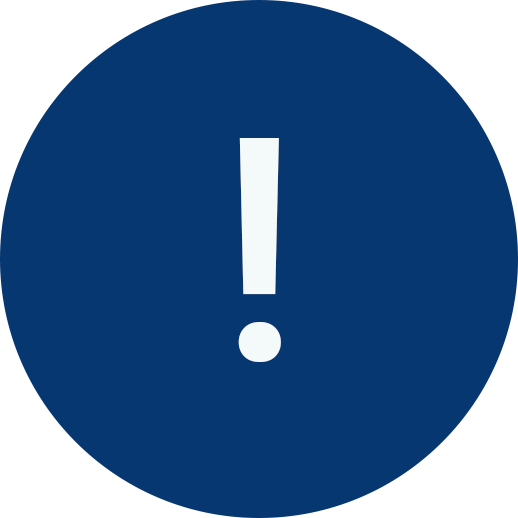 The Challenge
Reported 7.1% rate of delayed transfers of care (DOTC)
Ineffective care transition between partners
Lack of visibility of the process leading to multiple sequential assessments over discharge
Need to reduce the time patients spend waiting to be released from Hospital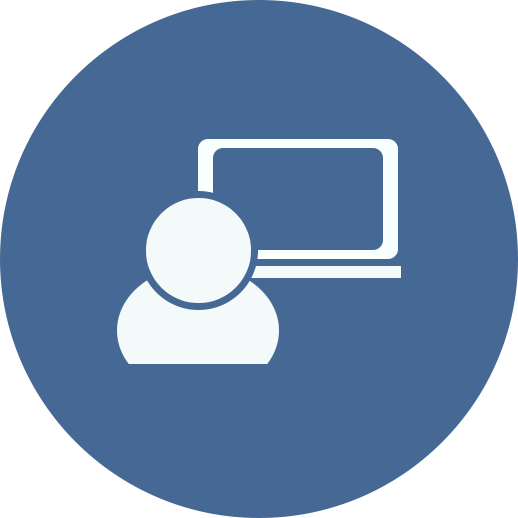 The Actions
A Discharge to Assess (D2A) group was formed to digitally share an assessment system, allowing single access to both public and private sector care providers
QES developed a web based application with live feeds from core operations, providing real time information on each patients status, needs etc
Created an interface with an excellent user experience and which drastically reduced dual keying
Ensured that the application was accessible from multiple web based devices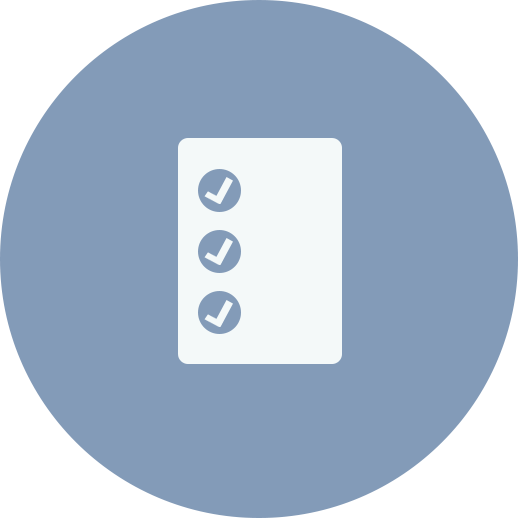 The Result
Mid Cheshire Hospitals achieved the national target for DOTC of 3.5% and improved the discharge planning process for professionals and patients
The system ensured complete transparency, improved referral on quality and avoided unnecessary hospital admissions
Achieved a 9% reduction in low harm complaints and ZERO serious incidents relating to discharge
90% of users found the system easy to use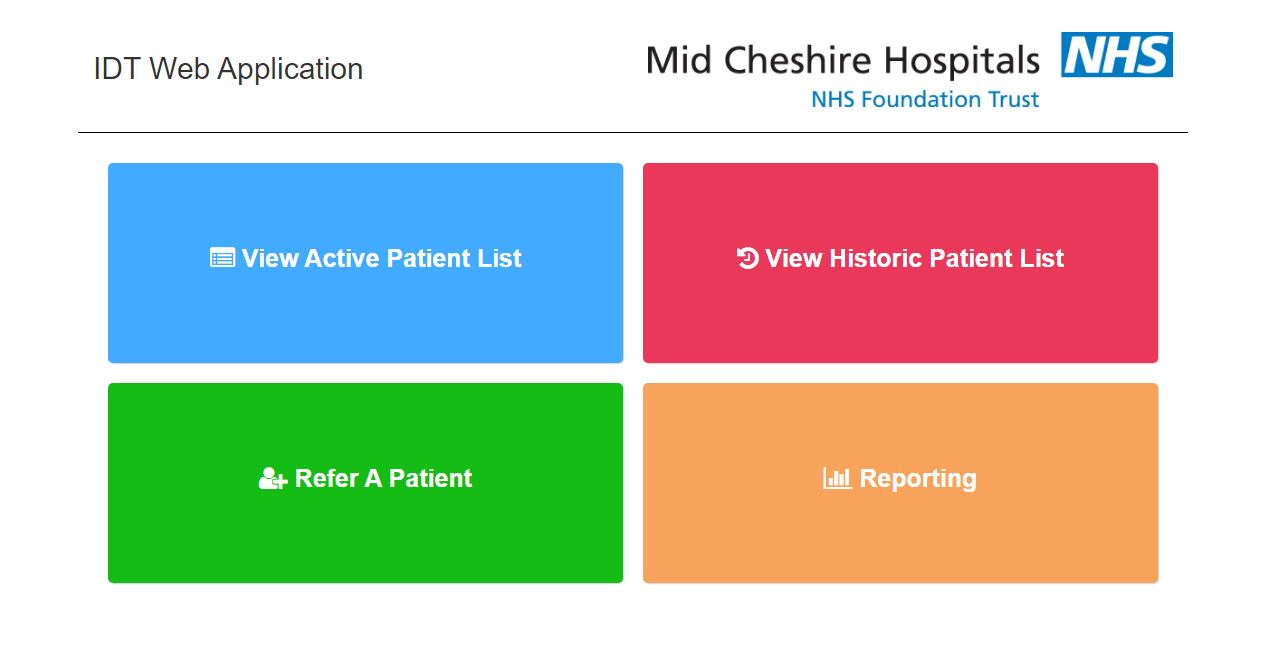 Accessibility
The dual patient and bed management system is mobile friendly with 24/7 access across all devices including phones, tablets, iPads, laptops and desktops.
The landing page offers a secure and interactive gateway to both systems for patient and bed management.
One single-view portal allows simultaneous use for multiple practitioners, reducing the need for numerous sequential assessments of the same patient.
Ability to follow the patient pathway from admission to discharge in a simple and easily manageable format.
A user-friendly interface that is intuitive and easy to navigate minimises the time taken on administrative duties which enables more time for delivering patient care.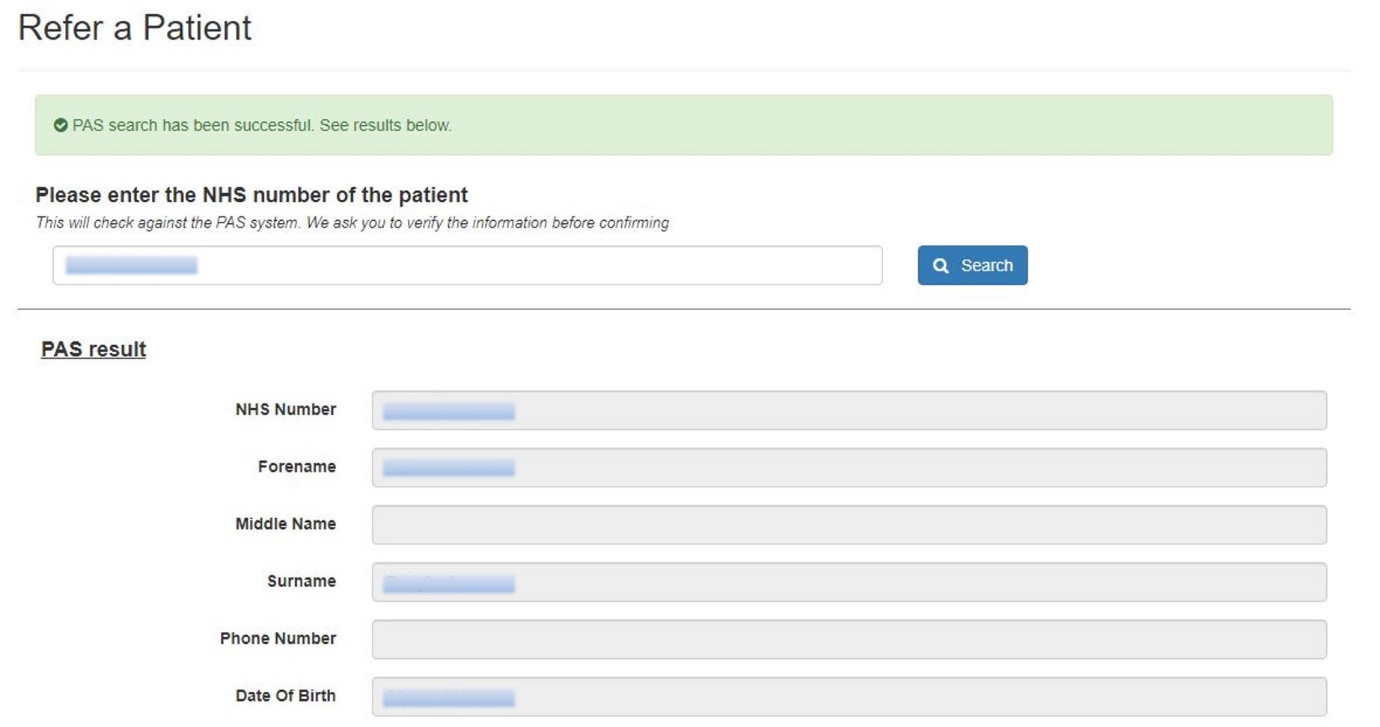 Refer a Patient
A clear, concise view of the active patient list with an overview of automated statistics located at the top of the screen .
Ability to filter the list by category, demographic and patient status (e.g. Patients assessed as medically fit, patients in a specific ward or location, patients with a specific reason for delay).
Patient information including referral summary and patient notes are easily and instantly available to examine .
The details corresponding to historic patients are also accessible here for reference and evidential purposes.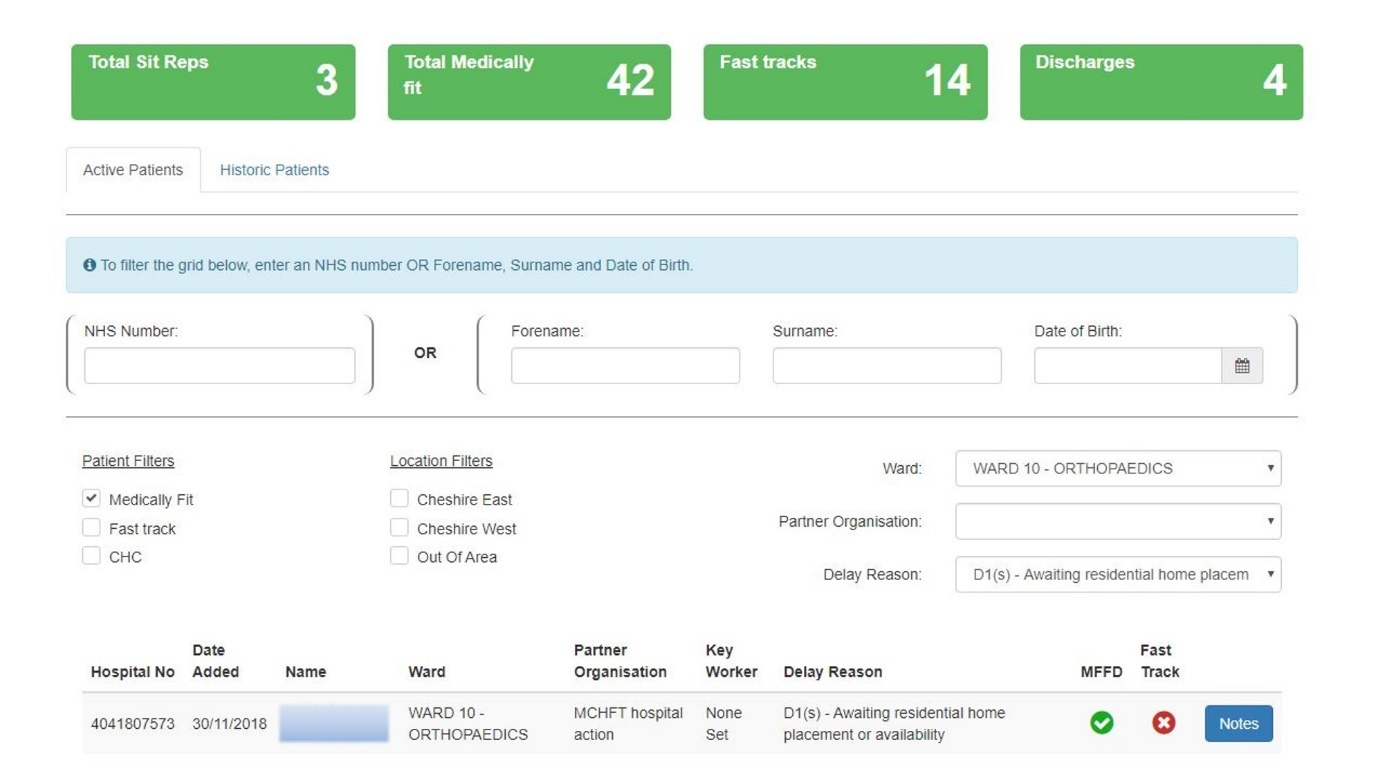 Holistic Patient View
A centralised location containing a summary of all patient records highlighting personal/contact details generated from the local PAS database, as well as linking back to the initial referral summary.
A chronological view of all patient notes, most recent first, throughout their whole pathway process is accessible on this comprehensive patient view area.
The patient notes feature is triggered upon actions being made along the pathway (i.e. Returning a patient to triage), this is an active reminder each time to ensure records are being made and updated throughout the process to avoid multiple sequential assessments.
Easy access to create, view and edit the patient's Safe to Transfer Form, available to any healthcare professional working on that case; a mixture of mandatory and optional fields allows medical practitioners to fill in at their discretion and how best they see fit.
Discharge form stored here for historic patients, and can be created here for active patients progressing through the pathway once medically fit; includes date, time and discharge outcome as required fields to fill in.
Mandatory fields improve the quality of data collection as users are prompted to view the question and provide an answer before completing the form.
The various forms included within this overall patient view area can all be downloaded for further reporting and data analysis .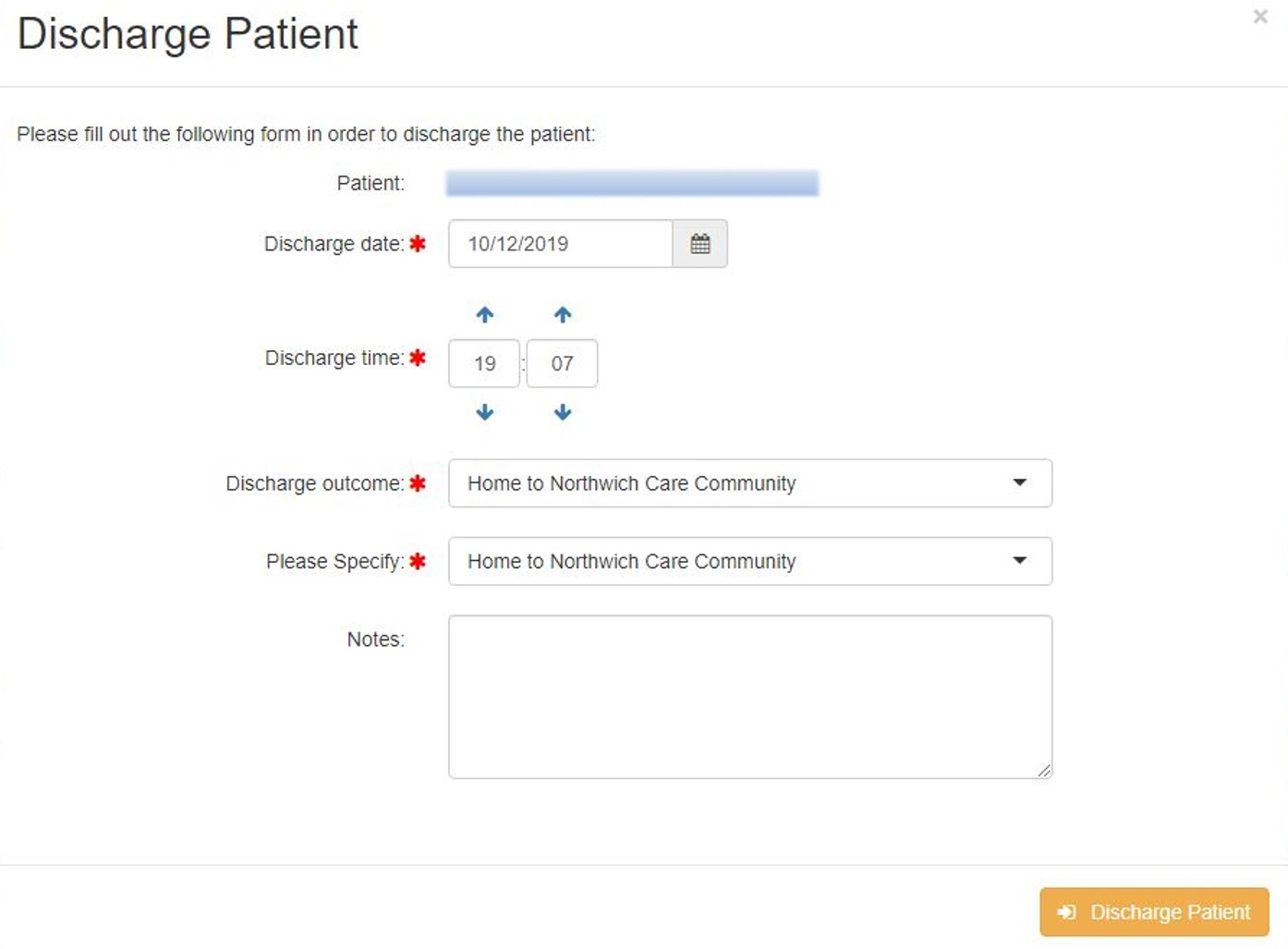 Triage & Pending List
An easy and intuitive interweaving system makes it easy to progress patients from triage to pending, or revert if required.
Ability to fast track patients straight into pending, bypassing triage, without hindering the collection of patient information throughout the process.
Quick medical actions can be taken from both screens to progress through the pathway or take a step back if medically unfit for discharge, these actions will also trigger the patient notes feature to maintain consistent updates.

Bed Management
A full bed management summary across a group of sites provides an overview insight into each bed occupancy and number of delays at each site.
Once entered into an individual site, a detailed view provides information including occupancy timescale, expected discharge date, reasons for delay and red reminders for overdue patient journey questions.
A bed swap feature gives the user quick ability to swap a patient/s by bed with all the connecting information updated in real-time to avoid any cross over confusion.
The bed planner provides a full calendar view of past, present and future bookings referenced by date and bed number to enable forward planning and highlight what beds may be unavailable at a certain time.
Beds can be marked as unavailable (e.g. For cleaning or maintenance) and the overall calendar will update immediately to evidence this.
A simple process is available to discharge patients stating time, date, discharge outcome and any other additional information for records.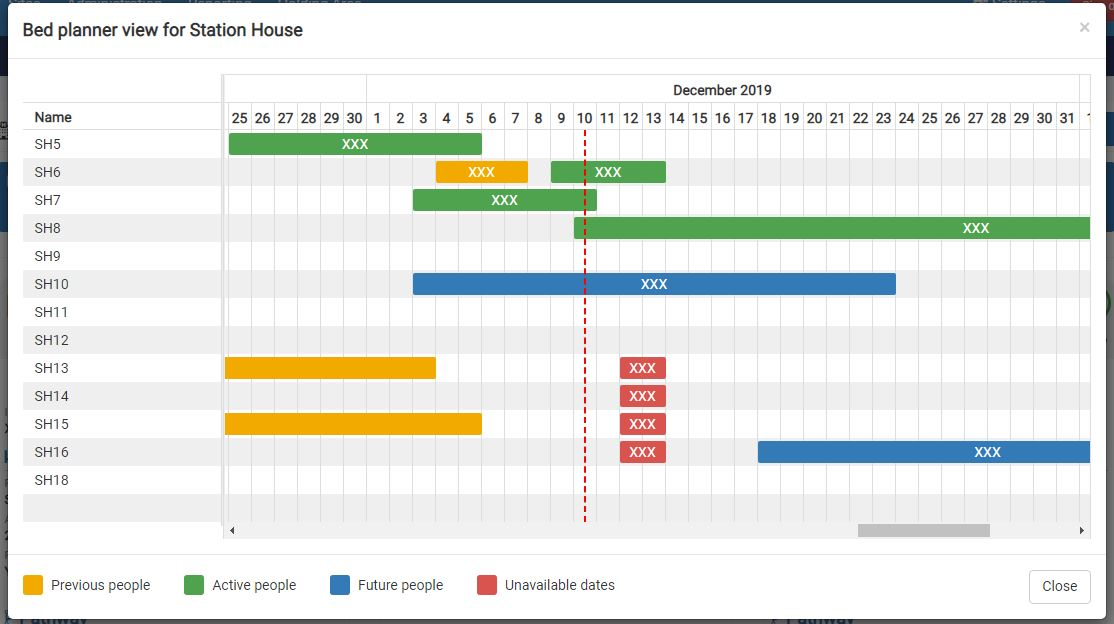 Security and GDPR
Sensitive information is secured and doesn't leave the system.
Full audit logs to review user, case and system wide activity for evidence and review purposes.
The dual patient management system is GDPR compliant and a secure way to store patient information and manage discharge processes.
Security roles set in place to restrict access permission for users if required.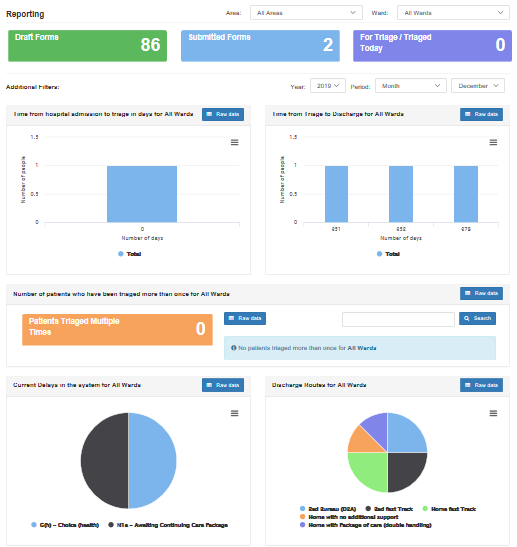 Reporting
Interactive digital dashboard on both portals gives insight into real-time data and allows the user to easily react to emerging trends and issues.
Visual charts and raw data are available to provide a detailed analysis into the most common causes of delays, as well as the most common discharge outcomes.
The IDT platform's reporting area highlights which optional questions are being unanswered, allowing management to make certain requests for improvement if believed necessary.
Dashboards can be filtered by area, ward and date period to monitor and track trends year on year, this enables a simpler process when interpreting a set of data with the outcome of continuous improvements in mind.
Raw data is available for simplified viewing of data, and can be exported in excel format for records.
Get in touch regarding

Contact Us
Please enter all required fields